Everything works great with a new computer. Then little by little, performance degrades. It seems to happen inevitably with any computer. Here are a few simple tips anyone can do to keep their computer running well.
Be prudent during installing software. Any check box that is already checked should be treated with caution. Installing search bars from Ask.com, Yahoo!, Microsoft Bing, or Google all clutter your web browser and slow performance. Many programs try to get themselves to launch automatically at start or to install quick tray icons. Installation programs can sometimes hide these check boxes in customization screens. Simply selecting the 'Quick Install', for instance, is like handing over a blank check.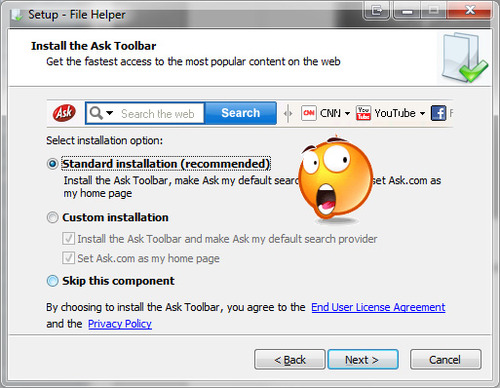 Modern computers do better than their predecessors in maintaining a clean working environment. Still, a minimum of 15% of your hard drive should be free for the use of swap space and other operating system usage - and the more, the better. See this guide on WikiHow if you need help checking available hard drive space.
Computer usability solutions can often be found by following the road less traveled. Certain computer programs, like iTunes or Windows Media Player, are bloated with functionality that is never needed. Alternatives to Acrobat Reader, media players, popular peer-to-peer file sharing clients all exceed expectations without installing ad-tracking software, costing money, or being slow simply by poor or excessive design. Here, the Internet is handy. Available reviews and resources are endless.
Investing in a quality anti-virus program is also key, particularly when operating in a Windows environment. Many anti-virus applications provide poor protection and immediately impact computer performance negatively. Much like other available computer applications, reviews are plentiful.
Finally, if a program is no longer needed by your computer, be sure to delete it by following standard operating system procedure. On Windows, this usually means running an uninstaller or accessing the Uninstall a Program interface from the Control Panel.
Often, if problems persist, extreme corrective measures can be taken such as registry cleaning or just reformatting the computer and starting again from scratch. These often have unforeseen complications, such as becoming unable to boot to losing work and software licenses. It is best to seek advice from professionals or informed friends and family before attempting drastic measures.
These suggestions and guidelines are easy for even the most casual computer users to perform. The common theme is to not take too many shortcuts. Investigate what your software wants to do and inform yourself through research on the Internet and seeking advice from computer professionals.
Contact Image Management for your website design, SEO, and branding services in Racine, Milwaukee, Chicago, and Kenosha.
---
Published on October 12, 2012