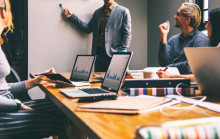 While traditional 2019 resolutions may include chugging green smoothies or logging miles on the treadmill...
...we propose something more sustainable: growing your business and receiving more leads.
Business is simple - give the people what they want, and they'll keep coming back. Yet, if they can't find you - how can you give them what they want? If they don't know you exist - how can you exceed their expectations so they become a repeat customer?
---
Published on January 9, 2019