People are searching online for information regarding your company every day. In order to appear in those search results, your company or organization needs to have a well-designed website. However, a well-designed website is only as valuable as its placement within the search results on Google, Bing, or Yahoo. Placement on the first page is critical when presenting a business, showcasing services, or selling products. That is where search engine optimization (SEO) comes in.
SEO is the process of improving your site's content & structure so search engines will see it as relevant and raise its placement in the organic results section. Organic results are the regular text listings on a search results page and differ from the paid ad section. The paid ad listings are created through search engine marketing (SEM), including a Google Ads campaign, where each click is paid for. See the screenshot below showing the difference between organic and paid ad listings.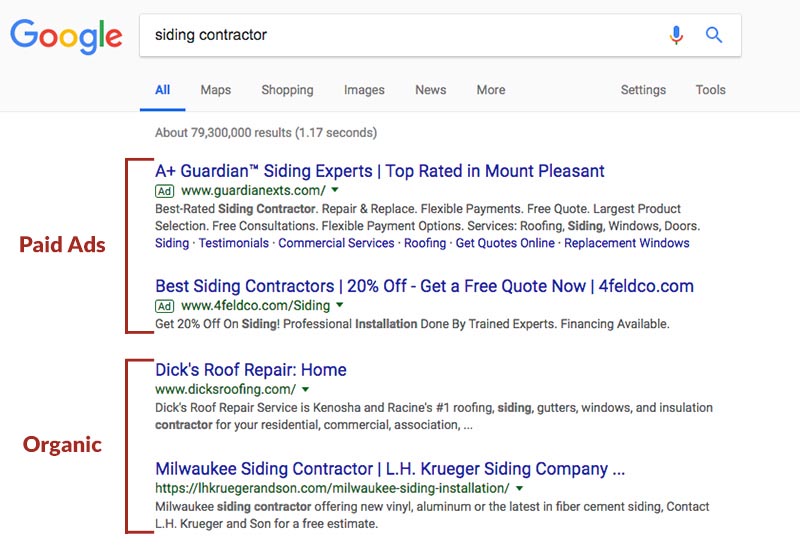 ---
Key Factors that Enhance SEO
The vast number of techniques and practices to enhance a website's ranking amongst search results can be overwhelming. Certain practices deemed vital by one agency may be considered inconsequential by another, causing confusion for a business owner simply looking to increase their website traffic. Over the years, clients have asked what exactly search engines are looking for when presenting search results. As noted previously, there are many factors at play for SEO and those factors can change yearly, but the main focus of search engines is to determine whether your website can be trusted to have the information to answer the user's question. To narrow it down, the top five factors search engines consider when ranking a website are locality, content quality, update frequency, traffic and incoming links. See the following detail regarding these five factors below: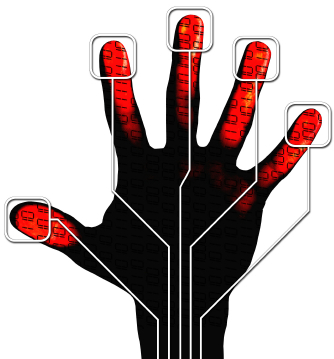 1. Locality
Search engines tend to provide higher placement for businesses that serve the user's local area. An old SEO technique was to provide a list of each city or town within your service area. That is now looked down on and can even have a negative effect on your search engine ranking. The best way to have your content show up at the top of organic results is to choose a few main cities to target and sprinkle those cities throughout your content in a user-friendly way. Claiming your business listing with Google My Business is another great way to be at the top of search results with only a small amount of effort. Image Management can help claim your listing and ensure your information is correct and up to date.
2. Content Quality
Most SEO specialists will agree content is the most important part of search engine optimization. Search engines' robots scan the entirety of a website for common search terms. Websites will not produce viable search results for terms with little to no presence on the site. If, for example, the website should display in searches for "roofing", it is critical for this term to be used generously throughout the content. Beyond being optimized for search engines, content also needs to be written so users can find the answers that they want and won't leave your site on first glance.
3. Update Frequency
High quality content is great when it is first published, but a dormant website begins to lose favor with search engines. Adding new, search term-focused content to a website on a regular basis is important. Search engines scan websites regularly to see if new text and information has been added in order to provide users with the best possible search results at that time. This doesn't mean you have to create all new pages every month; new content can be added easily through a news article in your website's news feed or reworking old paragraphs on specific pages of your website.
4. Traffic
Websites on the first page of search results tend to have higher traffic. This can present a frustrating conundrum for a new website trying to place higher within search results, especially if the competition has been working on their search engine optimization for some time. Encouraging customers to visit a website through marketing, social media, or online advertising can help increase traffic and overall search engine ranking.
How customers are visiting a website is also a critical factor. Google is now promoting websites that are optimized for mobile devices and downgrading websites that do not utilize responsiveness. Learn more about Responsive Website Design.
5. Incoming Links
Having a website featured on social media, Google My Business listings, reputable online directories, and partner business websites is very valuable. Search engines see these links as recommendations from other entities and will in turn provide better search result rankings as well as additional traffic. In the past this was done via "link farms" which were websites having nothing to do with your company that link to your website. This practice now leads to negative effects on your search placement. Therefore, we must stress that incoming links need to come from relatable and reputable websites only.
---
Our SEO Process
At Image Management, our search engine specialists will review your website and determine specific updates that will help your website rank higher. Our process begins by discussing with you where your potential clients are geographically and what phrases, or keywords, you believe they are using to search for you. Location is specifically important as more and more searches are focused on what is near to the user. We then use various tools to determine the most popular phrases that users are utilizing when searching for your products or services. Next, we use our research to rewrite or optimize your website's content with an emphasis on those keywords. Other important factors that we focus on are making sure your website displays properly on all device sizes and loads quickly for the user. Google's Search Console and PageSpeed Insights are examples of tools that we use to monitor your site from Google's perspective to ensure there are no URL crawl errors and identify any other improvements that should be made.
SEO work is done on a monthly basis. We offer customized monthly plans with a specified number of hours to work on your website per month. The amount of time needed per month depends on the current state and size of your website. Monthly plans allow for Google and other search engines to index all changes made from month to month and also for the data driven results to appear in your site's analytics. Each month we will send a report on the changes made. The best SEO practices are constantly changing due to search engines improving their indexing algorithms which means every site can be optimized to better search placement. Below is a general list of some SEO services we would provide during the monthly adjustments to your site.
Keyword research and analysis
Optimize current content for additional keyword usage
Update or add meta descriptions
Update or include alternative text for images
Verification of domain via Google Search Console
301 redirects to resolve broken links
Google Analytics traffic analysis
Local search optimization, if applicable
Monthly SEO report emailed
Contact Image Management today to schedule a consultation to discuss how search engine optimization can work for your company or organization's website and increase your leads or sales.